Moriya Beach – Best Beach Around Tokyo –
Moriya beach (守谷海水浴場), located in Chiba prefecture is a great place to go swimming in the sea around Tokyo. It was elected one of the 100 best bathing beaches in Japan by Ministry of the Environment in 2006.
There's a island with a shrine gate over the sea. The island named "Watashima" is sometimes accessible by foot at low tide (20 times in a year).
Bathing Season
Mid-Jul to August.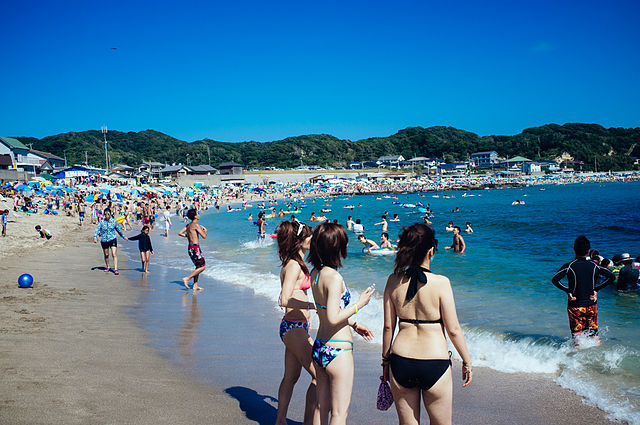 Facilities
Parking, changing rooms, lockers, stores and some refreshment stands are available on the season.
Access
About 2 hours drive from Tokyo or Narita airport.
Also, you can go there by train and a 8-minute walk. Kazusa-Okitsu station (JR East's Sotobo Line) is the nearest station.
Other Best Beaches Near Tokyo
You may think Moriya Beach is too far from Tokyo.
If you are looking for a beach close to Tokyo, I recommend Odaiba Marine Park (お台場海浜公園). It is a popular date spot especially at night.
If you want to swim in Tokyo, a beach has been opened every year in Kasai Beach Park (葛西海浜公園) in recent years (Mid-July to August).
If you want a beach close to Tokyo where you can bathe in the ocean, I recommend Inage Seaside Park (稲毛海浜公園) in Chiba. It was renovated into a white sand beach in 2019, and we plan to enjoy BBQ and other attractions.
If you want to surf, I recommend Shonan (湘南) beach (Kanagawa Pref.) or Kujukuri beach (九十九里浜). Tsurigasaki Surfing Beach (釣ヶ崎海岸), which is the venue of Tokyo Olympics, is located in Kujukuri beach.